It is one of those historical ironies that the 6th of June is the anniversary of both the US at its best and at its worst in the 20th Century. Apparently the universe does have a sense of humor. As Cheryl's post noted, today is the 75th anniversary of the D-Day landing at Normandy. President Eisenhower's remarks that day, made when he was Supreme Allied Commander for Europe, capture America at its best. Striving hard to live up to its self declared ideals and willing to pay in blood to do so.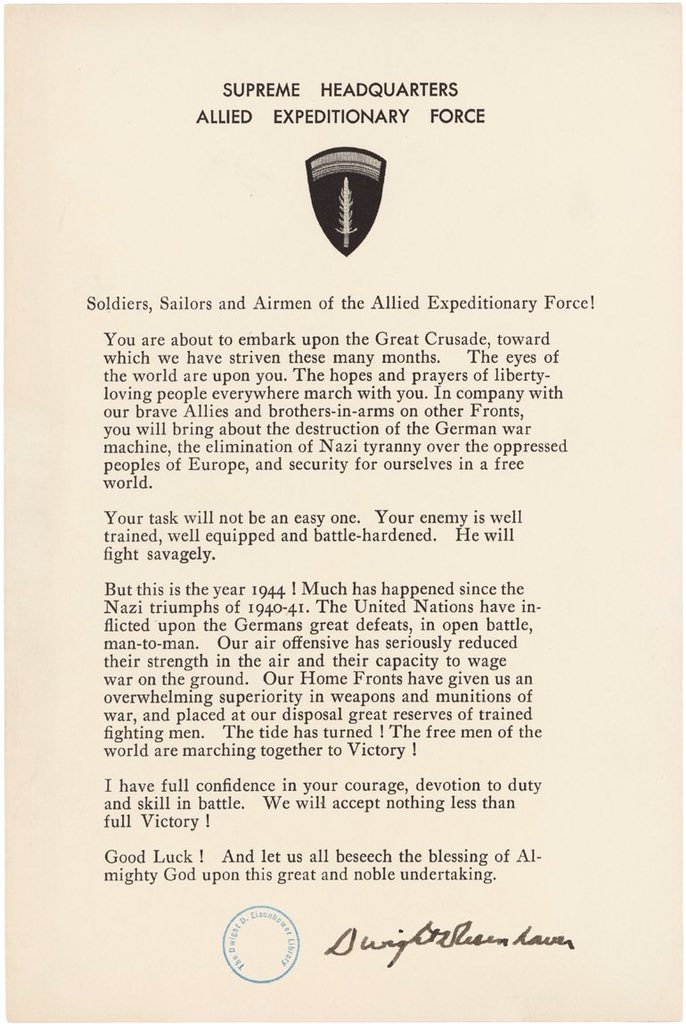 Just five years before, however, the US failed to live up to its self declared ideals. On the 6th of June, 1939 the passengers of the S.S. St. Louis, all Jewish refugees fleeing NAZI tyranny and certain death in the camps, received the final notification that they would not be even allowed to temporarily make port at Isle of Pines/Isla de Juventad while they waited for their US entry visas to process. This was a last ditch effort to make a landfall in Cuba after the refugees had been turned away from reaching safety in the United States without the finalization of their requested entry visas.
My name is Werner Stein. 80 years ago today I sought asylum at the US border and was turned away. I was murdered in Auschwitz. pic.twitter.com/ZpI7TFiSti

— St. Louis Manifest (@Stl_Manifest) June 7, 2019
The refugees aboard The St. Louis, like refugees and asylum seekers today, had grabbed their children and what little they could carry and risked everything traveling thousands of miles across the Atlantic while their entry visa applications were being processed. They did so because to stay where they were meant death. And because at the end of their voyage, what would ultimately become the Voyage of the Damned, was supposed to be hope, safety, and freedom. The end of their voyage was supposed to be the United States. The refugees aboard The St. Louis made their trip because of their hopes and prayers as liberty-loving people. Hopes and prayers that ultimately fell on deaf ears. For 254 of the refugees aboard The St. Louis, the end of their voyage wasn't hope, safety, freedom, and a new life in the US, it was death in the NAZI camps. For the rest it was the fight to survive in the camps or as refugees in other states or fighting with the partisans throughout Europe.
Five years. Five years were all that separated the failure of the US and Americans to live up to their ideals and their valiant efforts, dearly paid for with blood, to do so. Five years were all that separated the America and the Americans that would turn away those fleeing from danger through danger with the hope of reaching safety in the United States and the America and the Americans that would ultimately rewrite the United States immigration laws post World War II to ensure that there would never again be a Voyage of the Damned. And 75 years later, the co-religionist of the doomed refugees aboard The St. Louis, himself the grandson and great-grandson of refugees, actively seeks to ensure that the United States will be the America of the Voyage of the Damned and not the America of D-Day. And all without even a peep of opposition of the President's Orthodox Jewish son in law, himself the grandson of Polish Jews who fled into the forest and refuge with the famed Bielsky brothers.
The US has always had this tension. This war between its self proclaimed ideals and its actual reality. On D-Day itself, as they were denied their rights at home as second class citizens in the US, African American troops placed their lives on the line to, quote Eisenhower, destroy the "NAZI tyranny over the oppressed people of Europe,  and [achieve] security for ourselves in a free world".
These African American soldiers, many/most in the 320th Barrage Balloon Battalion, the only all African American unit to storm the beach at Normandy, took heavy casualties in both making the landing and carrying out their mission of deploying their barrage balloons to protect Allied aircraft.
You wouldn't know it from most portrayals of D-Day, but black troops were among the first waves of Allied Forces that stormed Omaha and Utah Beach. Here's a great piece on some of these troops from the Smithsonian. https://t.co/tzGBESbsLp

— Eddie Valentin (@evalentin25) June 5, 2019
75 Years After D-Day, fighting to Recognize Black Troops. In particular Corporal Waverly "Woody" Woodson Jr. part of the 320th Barrage Balloon Battalion, the only African-American combat unit in the D-Day landings. His widow still fights for his Medal https://t.co/P2CmSBywYj

— Ellis Island Honors Society (@EIHonors) June 6, 2019
Now they're all but forgotten.
There used to be a prevailing myth that no black men participated in D-Day — by far one of the most important days of World War II.

But a closer look reveals that some African-American soldiers played a key role on Omaha Beach, and their stories still remain largely untold.

"There were no (Congressional) Medals (of Honor) given to any black soldiers for what they did at D-Day," said 90-year-old Joann Snowden Woodson. "People really need to know the truth."

Woodson has been on a consistent mission to share the truth of D-Day with the world, as well as the service of her late husband, Waverly Bernard Woodson — one of the few black soldiers known to have served on Omaha Beach that fateful day.

Originally from West Philadelphia, Waverly Woodson was a member of the 320th Barrage Balloon Battalion, an all-black Army unit that specialized in placing barrage balloons in battle areas during World War II. Their goal was to distract and destroy enemy aircraft and provide cover for Allied soldiers on the ground.

Waverly Woodson and his Battalion left England on June 5, 1944. They arrived on the beach in Normandy via transport boat the next day.

"He said he could see the soldiers being picked off just like flies," Joann Woodson reiterated. "Some of them were dead; some of them he had to administer the last rites. And some of them — I think he said he had to do amputations and everything."

Waverly Woodson died in 2005, but Joann Woodson was there when he provided testimony before Congress years prior. She recalled her husband's many stories of that day.

At 21, he was one of a handful of medics who tended to the wounded under enemy fire. Waverly Woodson's leg and buttocks were sliced by shrapnel, but he worked through the pain, saving lives on the shore.

"He really thinks that, all told, it could have been 200 to 300 men," she added.

Waverly Woodson collapsed from exhaustion 30 hours after landing on Omaha Beach. He earned a Purple Heart and Bronze Star for his service.

He was nominated for the Congressional Medal of Honor in the '40s, but no black soldiers received such high recognition at the time. Then, records of his service, along with those of millions of other soldiers, were destroyed in a fire in 1973.

Today, all that remains is a single memo regarding his extraordinary feats.

"Here is a Negro hero from Philadelphia who has been recommended for a suitable award. … This is a big enough award so that the President can give it personally, as he has in the case of some white boys," stated the 1944 U.S. Department of War memo to the Franklin D. Roosevelt White House.

The memo was discovered by Linda Hervieux, author of "Forgotten: The Untold Story of D-Day's Black Heroes, at Home and at War."
There is only one surviving Soldier from the 320th still alive on this 75th anniversary. Here is his reminiscence of D-Day:
"I did my duty. I did what I was supposed to do as an American," says Henry Parham, who is believed to be the last surviving African-American D-Day combat veteran.

Parham says he did not know how to swim in the amphibious assault. https://t.co/oa6Kpx8xL6 pic.twitter.com/tWuFXHc9LZ

— New Day (@NewDay) June 6, 2019
The Soldiers of the 320th Barrage Battalion were not the only African Americans that paradoxically found themselves fighting for liberty and freedom against tyranny in Europe while denied their full civil rights and liberties at home in the US. There were also the much better known Tuskegee Airmen.
2. #TuskegeeAirmen remember what it was like to fight for their country while dealing with segregation

"They didn't think we could fly a plane…"

"It was really gratifying to fight for this country, especially as I was growing up it didn't appear to be fighting for me." pic.twitter.com/csbivTK6rV

— Yashar Ali 🐘 (@yashar) June 6, 2019
D-Day's 75th anniversary, which also happens to be the 80th anniversary of the closing off of the last chance, the last bit of hope, for the refugees aboard The St. Louis, shows the paradox of the US. We set and self proclaim high ideals and values for ourselves. On June 6, 1939 we failed to live up to those ideals. On June 6, 1944 we paid in blood to live up to them. And because of what American Soldiers – Soldiers who were white and African American and Latino, Christian and Jewish –  saw as they fought across Europe, after World War II the US changed its immigration laws so that it wouldn't fail to live up to its ideals as it had in 1939. Will we learn the lessons of D-Day, learn to risk all to live up to our ideals as Americans or will we fall way short as we did on the same day five years earlier. That is the question of D-Day's 75th anniversary. The answer is up to us.
Open thread.
Adam L. Silverman served as a senior advisor (Cultural Advisor) under temporary assigned control to the Commanding General of US Army Europe from January to June 2014 and then under operational (direct) control from July to August 2014.
https://www.balloon-juice.com/wp-content/uploads/2015/11/balloon_juice_header_logo_grey.jpg
0
0
Adam L Silverman
https://www.balloon-juice.com/wp-content/uploads/2015/11/balloon_juice_header_logo_grey.jpg
Adam L Silverman
2019-06-06 22:34:16
2019-06-06 22:34:16
America at Its Best and at Its Worst: D-Day at 75, the Voyage of the Damned at 80