One of the major frustrations for a lot of people now, as well as a seemingly lively source of discussion in the comments over the past couple of days, is why the Democrats and the center left to left of center organizations that support them cannot seem to get on the same page with their strategic messaging. And why are the Republicans and the conservative movement that supports it able to do so. The latter question is much easier to answer: the Republican Party, Republicans in elected and appointed positions, and the leaders and members of the conservative movement that support them, coordinate their messaging, produce uniform talking points, distribute them, use them, and then have them reinforced by Fox News, Sinclair Broadcasting's local affiliates through mandated editorials, conservative/right wing talk radio, and conservative print, social, and digital media. And all of this is amplified by Russian military intelligence, as well as other states such as Israel, Saudi Arabia, the UAE, and others who all have their own strategic objectives regarding the US and its policies.
All of this coordination and amplification are the result of Republicans, the conservative movement that supports them, the conservative organizations that do as well, and the conservative news, opinion, social, and digital media ecosystem largely speaking to white Christians. Mostly older, usually suburban to rural, and broadly evangelical, though their social and religious conservative coalition also includes traditionalist Catholics, Orthodox and Ultra-Orthodox Jews, and members of the Church of Latter Day Saints*. And this coordination and amplification produces results like this:
average Republican Cathy Garnaat:

'I was surprised to hear there was anything negative in Mueller report at all about Trump…I've mainly listened to conservative news and I hadn't heard anything negative about that report and Trump has been exonerated' pic.twitter.com/KJ9JeDIsXD

— ?????? ???? (@TheBaxterBean) May 30, 2019
Here's the transcript: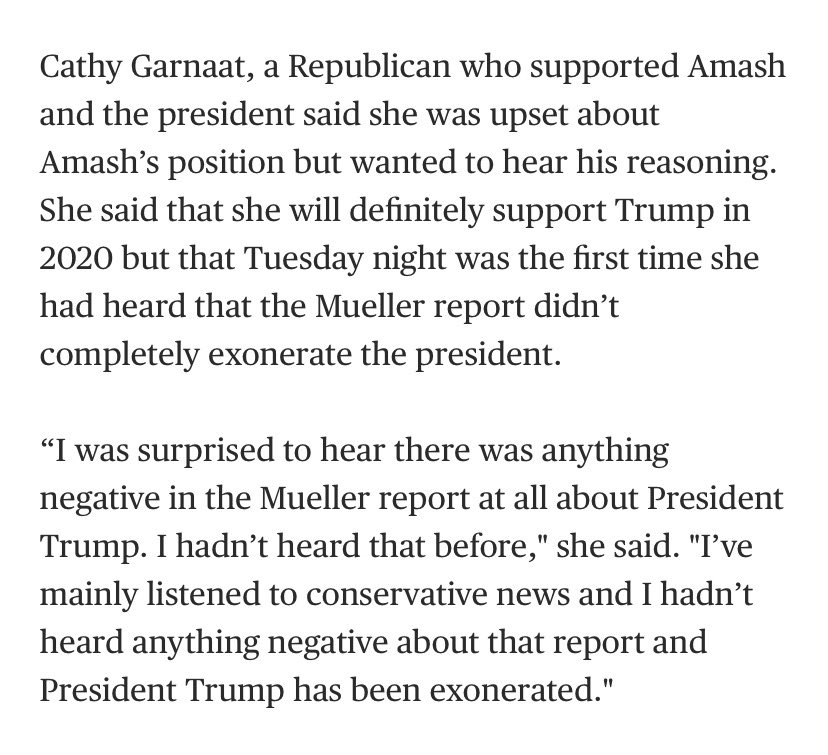 The Democrats, the center left to left of center organizations that support them, or, in some cases, work against them for not being pure enough, and the broad center to center left to liberal to progressive to left of center multi-ethnic, multi-religious, more urban, but also suburban, and some rural, multi-generational coalition that makes up the Democratic Party have a much harder time coordinating messaging. Some of that, of course, is evident in the previous sentence. It is hard to coordinate across so many different groups and their interests. The Republican Party has reduced itself to the representatives of a very narrow portion of Americans and, as a result, only has to message to that narrow portion of Americans. The Democratic Party is, for better or for worse, trying to represent not just everyone else, but also the narrow portion that is the Republican Party despite being hated and despised by Republicans. That makes developing a unified message, coordinating it across all potential communicators, and then enforcing message discipline much, much, much harder. It is further complicated by institutional and systemic issues that the Democrats cannot control, such as journalists who cover politics embracing bothsiderism and the view from nowhere because they think it will get Republicans and conservatives to stop abusing them. It won't. All it does is make them the refs who are constantly being worked. And they succumb to their abusers every time. To the point that they preemptively abuse themselves.
Another complication right now, especially in regard to Special Counsel Mueller's findings and what to do about them, is that there are just too many voices. I cannot prove it, as I'm not privy to her strategy, but my take on Speaker Pelosi's response to the Special Counsel's report and how to proceed is because she recognizes that she will only get one chance to use what Bob Mueller brought to light, if she acts prematurely, if the course of action is not completely effective, then she's simply left the President, as a political creature, wounded, but enraged. She also, unfortunately, has to manage the half a dozen committee chairs most involved with ongoing inquiries into these and related matters pertaining to the Russian interference in the 2016 elections; the President's, his family's, his business's, his campaign's, his administration's, and other Republican elected and appointed officials' financial and other connections and relations with Russians connected to Putin and his government; the President's, his family's, and his business's finances, and related criminal and/or constitutional violations. That's a lot of stuff going on, a lot of information coming to light, a lot of people trying to communicate that information. And it results in a lot of noise drowning out the signal.
If I was advising Speaker Pelosi, I would recommend a slightly different approach. Specifically that she should appoint a Select Committee for the review of the Special Counsel's findings and related matters. This would allow the House Democratic Caucus to speak with one voice – that of the select committee's chairman or chairwoman. And have one singular coordinating point for the development and dissemination of relevant information. This wouldn't be the immediate opening of impeachment, but, rather, the opening of a select committee specifically intended to look into all of these matters holistically to determine if the House should proceed to impeachment. The existing committee investigations should still continue, but their purposes would be to feed the necessary information into the select committee. It would create a singular source point, a singular point of activity, and a singular point of contact for the Democratic majority's inquiry to determine if the House should proceed to impeachment. This makes more strategic communication sense than having to watch a half a dozen different committees work as the focus would be on the select committee and its work.
While this won't solve the larger problem of too many messages, too many voices, and too little coordination of them, which is the curse that arises from the blessing that is the broad and deep coalition that makes up the Democratic Party, it will resolve them for the inquiries into Russia's ongoing undeclared war against the United States, Russia's active measures campaign as part of that war to help elect the President, and the President's, his administration's, his family's, his business's, his campaign's, and into the GOP's own entanglements with Russia as it prosecutes its undeclared war against the United States. Pursuing this course of action would focus the attention on the select committee and make it easier for Americans to follow what is happening in the investigation and harder for the journalists focusing on politics to get distracted by shiny objects. Which, in turn, would actually make it easier for Speaker Pelosi to move to impeachment should the Democratic majority in the House determine it should do so.
Open thread!
* As I've written here before, if these folks ever get their way – the establishment of a white, Christian herrenvolk democracy – the evangelicals will first turn on the traditionalist Catholics, Orthodox and Ultra-Orthodox Jews, and members of the Church of Latter Day Saints they've convinced to sign on and once they've purged these groups and their members, the evangelicals will turn on each other over their own, intra-evangelical theological and dogmatic disputes. Sort of a domestic Thirty Years War.