The Kaiser Family Foundation just came out with their issue brief on the individual health insurance market insurer financial performance for 2018. The short version is that 2018 was massively overpriced.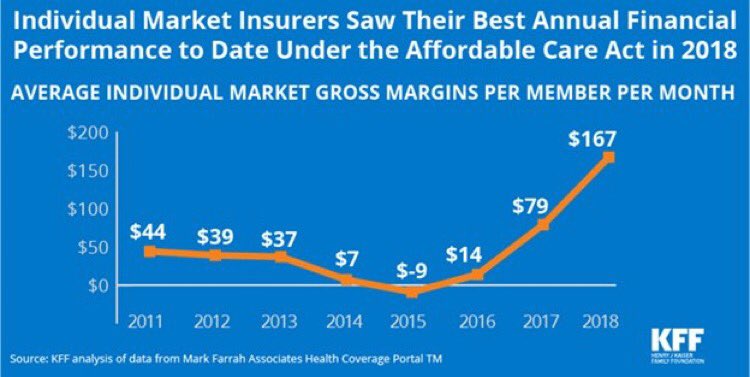 2018 had gross margins on a per member per month (PMPM) basis that was more than twice the gross margin for 2017. 2017 was a "normal" year with an industry wide MLR in the mid-80s. Quasi-competently run insurers should be reasonably profitable and sustainable when the MLR is in the mid-80s while lean insurers can profit when the MLR approaches 90.
2018 will have a raw MLR of 70%. Some insurers will be significantly below that and others will be significantly above that. However it means that there will be rebates. Kaiser is estimating $800 million in 2018 rebates:
Insurers estimate more than 3 million 2018 individual market enrollees, or 26%, are eligible to receive rebates. Insurers owing rebates expect to issue about $260 per member, on average. All rebates must be issued by September 30 of the year following the applicable MLR reporting period (i.e., September 2019 for the 2018 reporting period).
This is a good update on my June 2018 post:
the first quarter results plus initial 2019 rate filings strongly suggest that insurers in many states overpriced their premiums for 2018…

I think the states that have a 2016-2017 raw MLR average of under 85% where 2016 raw MLR is greater than 2017 raw MLR have a good chance of seeing significant rebate checks in 2019. Three states qualify:

North Carolina
Alaska
Missouri

…Eyeballing the data it seems that MLR rebates are likely to occur in low competition states rather than high competition states but I don't have firm proof on that yet.
2019 rebates which will be calculated in the summer of 2020 and distributed by September 30, 2020 will also likely be large.  The MLR calculation is based on a three year rolling average.  The 2018 rebates are based on a high MLR 2016, a normal MLR 2017 and a wicked low MLR 2018.  Many insurers will see 2016 cancel out 2018 for this current round of rebates.  However in 2020, the 2019 rebates will be based on a normal 2017, a wicked low 2018 and either a low or normal 2019 plus any credit they get for 2018 rebates paid.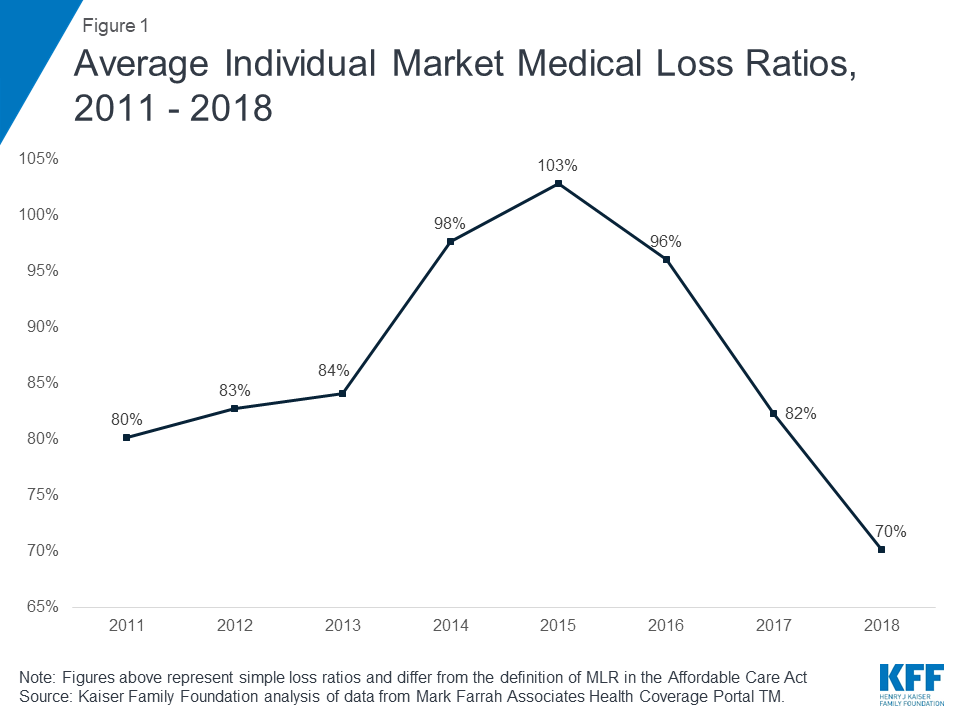 The 2016-2018 has a summed raw MLR (non-revenue adjusted) of 248 points which implies an annual raw MLR (non-revenue adjusted) of 82.667 points and an ACA MLR calculation several points above that.  We're going to see almost a billion dollars in rebates off of this level as some insurers had ACA MLR calculations well below that.
2017-2018 has a raw (non-revenue adjusted) MLR average of 76 points.  2019 would need a raw MLR of 88 to bring the average (non-revenue adjusted) MLR up to 80 points.  We would be hearing insurance companies crying about the incredibly morbid and expensive ACA risk pools already if they think that they are going to be hitting an 88% raw MLR.  If we assume that 2019 will look like 2017 in terms of raw MLR, the rolling period MLR for the entire individual market segment would be 77 which is significantly below the raw MLR (revenue unadjusted and roll-over credit adjusted) for 2016-2018 that is producing very large rebates.
So hang onto your hats as the politics of the ACA will get even more interesting during the summer of 2020 as big checks will be mailed out.